Flatpick & Clawhammer
(fossil 793)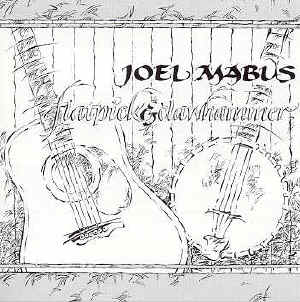 Released on CD in 1993
how to order this cd

Traditional guitar and banjo music.
From 1991 & 1993, two albums on one CD (70 minutes)

First came "Clawhammer" a banjo album recorded in two-mike stereo and released as cassette tape only. Then in 1993, the companion, "Flatpick" -- the same approach to guitar -- was released on tape as well. At the same time, this combined CD was released. The cassettes are in the dust bin of history, but the CD rolls on!
Mostly instrumental, with some vocals. Crystal-clear digital recording with warm, state-of-the-art microphones.
Remastered in 2001 for new pressing. Enhanced dynamic range and presence, with no sacrifice of digital clarity

" ... a relaxed yet propulsive feel, unfailingly 
beautiful tone, and fine, ever-graceful ornamentation.
Beautifully simple and simply beautiful." -- Guitar Player

"What a pleasure ...a wonderful album"
Bubba Hutch in Banjo Newsletter

THE SONGS:

FLATPICK (guitar)
Rainbow
The Friar's Britches
I'm Getting Ready To Go
Twinkle Little Star
The Butcher's Girl
Durang's Hornpipe
Blind Mary
Somewhere Somebody's Waiting For You
Rock The Cradle Joe

CLAWHAMMER (banjo)
Briarpicker Brown / Spider Bit The Baby
Groundhog
Stoney Point
Soldier's Joy
Marching Through Georgia / Abe's Retreat
Pretty Little Pink
Kitchen Girl
Over The Waterfall / Mississippi Sawyer
Hen House Door
Old Mother Flanagan / Granny Will Your Dog Bite
Darlin' Cory
Little Rabbit
 
Click here to return to the Recordings Page

© 2008 Joel Mabus