Omnibus
liner notes
by Joel Mabus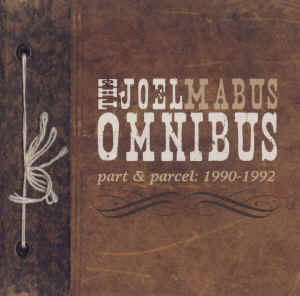 click here for OMNIBUS page
(notes from tray card)
The tracks on this disc are drawn from two early Joel Mabus albums: 1990's Firelake and 1992's Short Stories. Those two releases are here in near entirety: a full disc of original recordings, with Joel's voice, guitar, and mandolin all on tap. Backed by bassists Peter Dominguez and Joe Konkoly, these songs are indeed part & parcel of Joel's early career.
1 Firelake 4:20
2 First Times 3:17
3 Hard to Say 3:19
4 The Fiddle & The Bow 5:56
5 Love Is A Song 3:37
6 A Midsummer Night's Waltz 2:34
7 Oscar & Minnie 3:00
8 I'm On My Way* 4:19
9 Snow On The Water 6:30
10 If Wishes Were Horses 3:43
11 Doc'sology 1:58
12 The Gray Mare (medley)* 4:44
13 The Book I Gave Up Reading 1:37
14 5W Blues 2:25
15 Honeysuckle Moon 2:18
16 Warmer Every Day 3:20
17 Talking 20th Century 5:15
18 A Better Voice 4:53
19 Let It Be Me & You 3:14
Total time 70:28
Peter Dominguez plays bass on tracks 1, 3, 5, 7, 8, & 9.
Joe Konkoly plays bass on tracks 2, 4, 10, 11, 13, 14, 15, & 19.
Joel Mabus - vocals, guitars, mandolin & 5-string banjo
All songs were written by Joel Mabus, Fingerboard Music (BMI)
except (*) traditional, arranged and adapted by Joel Mabus.
Recorded and engineered by Gary Reid in 1990 & 1992
Re-mastered by John Stites in 2008
b&w tray card photo by David Olds, circa 1990
©2008 Joel Mabus
]1990, 1992, 2008 Joel Mabus
All rights reserved.
Cat.# Fossil 1908
Fossil Records
PO Box 306
Portage, MI 49081
www.joelmabus.com

(notes from inside folder)
The better part of two decades has passed since I did the work here. Where has the time gone? I clearly remember conceiving and creating all these songs - the writing and rewriting, the search for just the right words and the best chords. With a little effort, I can still conjure memories of some of the particular studio dates when we laid down these tracks. All these songs were recorded in either 1990 or 1992, and are from my two albums from those years, respectively: Firelake and Short Stories. These were not my freshman recordings but were in fact my first compact discs. I'd made five vinyl albums before these two, and have recorded a dozen cds since. But this was a productive time for me as a writer. As you can see, save for one traditional song and a medley of fiddle tunes, all of these are original works.
The content of each original album is complete in this collection except for three songs: "Hopelessly Midwestern" and "Rorate Coeli Desuper" from Firelake and "The Preacher & The Flood" from Short Stories are not here. Some deletions were necessary in order to meet the time constraints of a compact disc. The choice was clear: other versions of those three omissions appear elsewhere. A recording of the guitar instrumental, "Rorate," is also on my holiday disc, How Like the Holly (fossil 1299) and the other two songs I re-recorded recently for my album Retold (fossil 1808) - so newer versions of the missing tracks are readily available on those other discs and can also be downloaded from the internet.
[Rather than keep the songs in the order they appeared on the original projects, I decided to arrange them in a new set for this album. But if you want to recreate the past, you can. To listen to the cuts from Firelake in their old order, cue up cuts 1, 3, 9, 8, 7, 12, 18 & 5. For Short Stories, order up cuts 2, 10, 15, 4, 16, 11, 6, 14, 19 & 17.]
Reviewing these recordings after nearly a generation has been an interesting experience for me. Of course some of these songs I still sing today, but over time others have migrated to the back of the closet. As all these songs are "my kids," I still harbor some pride in them. Even the topical songs. Written in the early 80's, "Warmer Every Day" was still ahead of the curve on global warming when recorded in 1992 . And if you can forgive some un-pulled punches, "Talking 20th Century" still sums up the era pretty well I think, considering it was recorded during the reign of the first President Bush.
There are character studies here. "Oscar & Minnie" is a short portrait of my very real maternal grandparents; others are fictional pieces, such as the three dreamers in "If Wishes Were Horses." Ulterior motives - and one exchange of a musical instrument - inhabit the dialogue of "The Fiddle & The Bow." It's a story that didn't happen, but might have.
Several songs here opine on the topic of love. "Hard To Say" is about a guy with intimacy issues. "5W Blues" and "The Book I Gave Up Reading" are for lovers betrayed & bitter. "Honeysuckle Moon" and "Love Is A Song" are unabashedly romantic, and "Let It Be Me And You" is a song of love's hope. "A Midsummer's Night's Waltz" was written for my wife, Jan. The melody came to me in a dream. It's nice when that happens.
A fair bit of philosophy emerges from some of these songs. "Snow on the Water" is a song about priorities and perception - about dealing with loss and life's transformations. "First Times" puts youthful experience in perspective. "I'm On My Way" is an old spiritual that tells of Job's determination, if not his outcome. And "A Better Voice" is about wishes, expectations and one's place in the world. I wrote it on Thanksgiving night in 1989.
Musical instruments take the fore on a few cuts. "Firelake" is a banjo instrumental I wrote in the summer of 1989 and named for a lovely lake I fished with friends in Michigan's upper peninsula. "The Gray Mare" is a set of traditional fiddle tunes played on mandolin: The Old Gray Mare Come Tearing Out of the Wilderness / Dubuque / The Mouth of the Tobique / Jack of Diamonds. "Doc'sology" may have an awful pun for a title, but is indeed a song of praise and thanksgiving, of a sort. Doc Watson has been a lifelong guitar hero of mine, and this ode displays a few of the licks and riffs I have lifted from him over the years. I've had the honor to share the stage with Doc a handful of times, and they are treasured memories. Thanks again, Doc.
I need to give a bit of thanks to two other musicians. On the Firelake project, I was joined by premier bassist, Peter Dominguez, as gracious as he is accomplished. Peter brought in a couple of rare & prized upright double basses for his tracks. For Short Stories, Fender bass was played by my friend, Joe Konkoly. Joe is mostly sought-after these days for his skills as a guitar maker and restorer of fine instruments. But he is a fine multi-instrumentalist as well.
All the other instruments you hear on this disc are played by me, and for the ability to do that I thank Gary Reid, the talented man who engineered and recorded all these tracks back in '90 and '92. This was all recorded on analog four-track tape and mixed & edited the old fashioned way with sharp ears & razor blades. But it was mastered to the then-new digital format, using DAT tapes. All of that technology has now gone the way of slide rules and typewriters, of course. For this disc you have here, I thank the studio wizardry and good taste of John Stites, who remastered the tracks with an ear toward sonic continuity, and brought them into the 21st century as a whole album.
So here you have it - a double-decker slice of time and music served up on one shiny disc: Part and parcel of who I am, and where I was and what I did in my little corner of the universe once upon a time.
Joel Mabus 2008