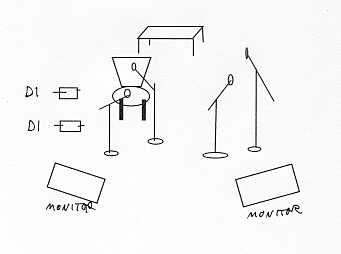 JOEL MABUS
TECH SHEET
Requirements
for optimum results in a
TYPICAL CONCERT SETTING
FOUR mike stands with booms attached
TWO vocal mikes, TWO instrument mikes
AT LEAST TWO DI's ( three may be used)
MONITORS (2 preferred)
ONE CHAIR — straight back, no arms, preferably wooden, but not rickety
ONE small table, bench, or chair
POWER -- normal 110 volt line (may not be used)
Requirements
for short set (15 minutes) with guitar only and no sound check
1. Vocal mike on boom stand
2. Instrument DI with a FLAT signal in the house and monitor
and/or good mike on boom
3. Monitor
DETAILS:
I play several instruments: typically acoustic guitar, banjo, fiddle and perhaps a second guitar. About 65% of my time will be standing up in front of the pair of mikes on your right, playing an acoustic guitar into the lower mike and singing/speaking into the upper mike. I own several guitars -- which one I bring may be decided late in the game. I often use a small-bodied Martin with a Fishman pickup built in. So a direct line is usually needed. I often prefer a blend of the pickup with the standing instrument mike. Other guitars I have are totally acoustic -- a mike alone will suffice. If you don't have DI boxes, let me know ASAP.
When I play the fiddle, I will use the standing vocal mike as well.
I will move to the seat to play the banjo and/or second guitar. This varies from gig to gig. The upper mike is for vocals, so a mike that is similar to the standing vocal is preferred. The lower mike may not be necessary, depending on the gear I bring.
If I bring a second guitar it is usually my archtop guitar — I would play this in the middle of the set. The archtop guitar NEEDS a DI along with the mike. The archtop has a vintage Dearmond hi-Z pickup which goes to a preamp and then to a direct line to the PA. I may have a direct box with me for the archtop setup. (If your venue has a good Fender amp, I might use it.) I like the mike also on the archtop to capture high end presence.
The banjo or banjoes I play will use a microphone. Lately I have been using a small lavaliere mike from the backside of the banjo run through a Baggs gigpro preamp. This requires a DI. Don't worry about feedback from the lav mike -- it is at very low levels and inside the banjo. I turn it off when not being used. If for whatever reason, we don't use the lav mike, then the lower instrument mike on the boom is needed.
My fiddle is un-amplified. But the vocal mike will do nicely.
Monitors are welcomed in nearly all situations. I prefer to hear a mix similar or identical to the house mix. I am willing to work with the limitations of the available PA, but in larger halls or outdoors, monitors become a necessity for a decent performance.
I have no strong preference in Microphones. I am very accustomed to SM58's for vocals and SM57's for guitar, since they show up so often. But I am happy to try your favorite mikes. Typically my vocal mike works well with a slight dip in the midrange, but no roll off in the bass.
Keep in mind -- If I am playing a short set at a festival, or doing a special concert, or traveling by air to the engagement, I may have different needs. There might be less or more needed on stage. Check with me to be sure.
email: joel.mabus@pobox.com

(c) 2001 Joel Mabus
Last revised: March 30, 2003 .