Ukulele Crimes
(fossil 2618)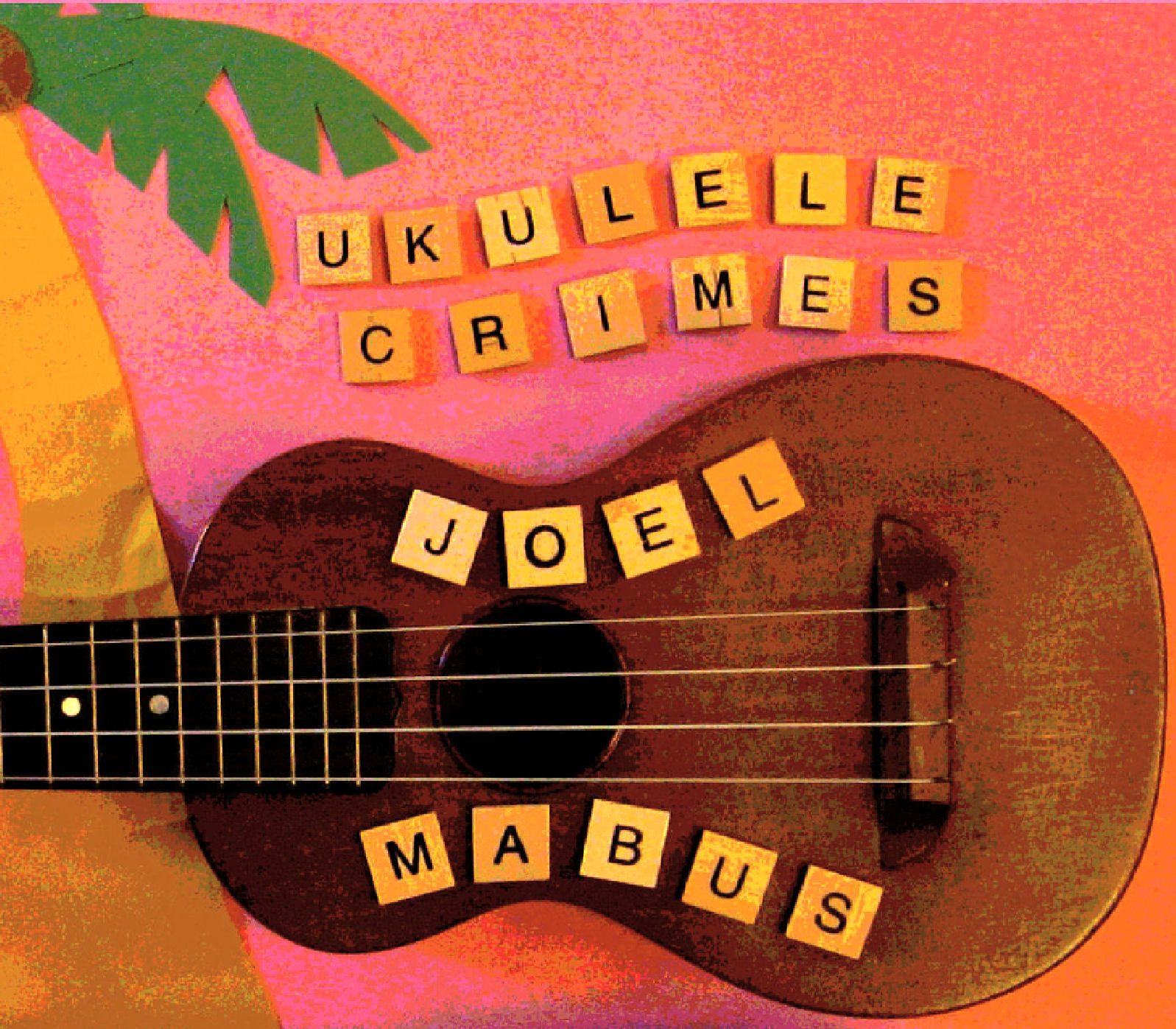 Release date March 2, 2018
Available for purchase directly from Joel by mail for $16 incl. shipping within USA:
how to order this cd
read the complete liner notes as published
read extra liner notes -- unpublished
read a review from Ukulele (the magazine)
The long wait is over! "When is Joel going to make a ukulele album?" The answer is -- right now!
With six new originals, and seven fresh takes on some classic American songs. It is NOT a children's album --
despite the hot pink album cover and playful design. No, this was meant for grownups, but safe enough
for kids -- there is no foul language.
So the question now becomes:
"Is it a crime to play the ukulele when all the world is blue?"
The answer comes in a hot pink wallet with a paper palm tree -- Ukulele Crimes!
The Songs:
[click on the "mp3 sample" after each title for a generously sized sample clip]
1 Ukulele Crimes 3:06 (mp3 sample)
2 Ukulele Scrabble 2:28 (mp3 sample)
3 Goats Can Eat Anything 2:29 (mp3 sample)
4 Georgia Grind 2:30 (mp3 sample)
5 I'll See You in C-U-B-A 3:23 (mp3 sample)
6 My Melancholy Baby 2:33 (mp3 sample)
7 Down Among The Sheltering Palms 3:38 (mp3 sample)
8 Way Down Yonder In New Orleans 2:46 (mp3 sample)
9 How Do You Spell Ukulele 4:47 (mp3 sample)
10 The Reentrant - Waltz 3:15 (mp3 sample)
11 Ukulele Schmukulele 4:04 (mp3 sample)
12 The World Is Waiting For The Sunrise 2:33 (mp3 sample)
13 Bugle Call Rag 2:23 (mp3 sample)
Tracks 1,2,3,9,10,11 are new original songs by Joel Mabus, ©2018, Fingerboard Publishing, BMI
The rest are Joel's arrangements of Public Domain songs --
read the liner notes for complete info on composers & year of publication
read the complete liner notes as published
read extra liner notes -- unpublished
read a review from Ukulele (the magazine)
Click here to return to the Recordings Page

©2018 Joel Mabus
All Rights Reserved